Cheap Flights to Marsa Alam
With a fast increasing popularity, breath-taking reefs and virgin beaches, Marsa Alam is the new place to be! Following the opening of Marsa Alam International Airport in 2001, the town became a sought-after holiday destination offering a diverse range of accommodation, ranging from ritzy comfort hotels all the way to Bedouin-inspired eco-lodges.
Marsa Alam is located 274 km south of Hurghada city. The enjoyable climate makes it a great holiday escape, winter temperatures reach up to 30°C and in summer they lie between 32 and 38°C.
So if you are packing for Marsa Alam, you are in for a big pleasant surprise.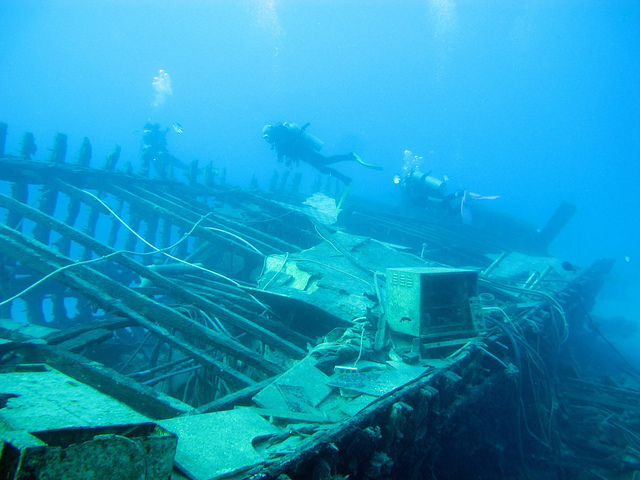 Shipwrecks in Marsa Alam by Derek Keats
Diving enthusiasts, get ready for a big treat! Dive sites accessible from Marsa Alam are among the most attractive in the Red Sea with a wide range of underwater wildlife and unspoilt reefs. Elphinstone Reef is perhaps the best of the group – a total 70 metre coral wall where whitetip reef sharks and giant turtles circle above your head. You can also visit the Samadai Reef, a place where wild spinner dolphins meet, which explains its nickname, Dolphin House.
Other well-known activities you can find in Marsa Alam are Kite-surfing, Safari and Wilderness exploration. In ancient times, the neighboring mountains were mined for gold and emeralds - today you can visit some of these ancient mines.
The nearby National Parks of Gebel Elba and Wadi al Gimal are home to a stunning assortment of birds and desert animals. The town is also known as a therapeutic destination. Either you'll go to the beach, the desert, the reefs or a mix of sightseeing and doing activities you're interested in, you'll admire Marsa Alam.
The new Port Ghalib Marina at Marsa Alam added to the location a very exclusive position, with its luxurious hotels, resorts and space for about 1000 yachts. The newly established marina offers some of the best relaxation and entertainment options on the Red Sea coast, including gourmet restaurants and wellness Spas.
Top rated family oriented hotels include; InterContinental The Palace, Sol Y Mar Dar El Madina and Hilton Nubian Resort. For couples looking to spice-up their love, they can hit off to Three Corners Fayrouz Plaza Beach Resort and Iberotel Coraya Beach Resort. For those on a tight budget, they can find good deals in various hotels like The Marina Lodge at Port Ghalib, Dreams Beach Marsa Alam and Concorde Moreen Beach Resort.
For those seeking a much primitive experience and getting closer to nature, they can check out specialty eco-lodges like Marsa Shagra Village, Wadi Lahami Village, Marsa Nakari Village, Awlad Baraka Ecolodge and Diving Station Reef Villa. You should not miss 'al Ganoob Eco lodge's annual festival.
Official Language: Arabic. English is widely spoken.
Time Zone: UTC+2. Daylight saving time is UTC+3 starts in April, ends in September.
Currency: Egyptian Pound equivalent to 100 piasters.
Dialing Code: 065 from inside Egypt. Add country code +2 to call from outside Egypt.
Food and beverage: You can enjoy your coffee and a sandwich at one of the airport's various concessions.
Currency Exchange: Currency exchange outlets can be found in downtown.
Lost Luggage: Lost Luggage must be handled by your individual airline's help desk. In case you have any inquiries about lost/found inside the airport you can head to the information desk in the airport.
How to get to the City Center: Taxis are the best way to move to city center. They are available outside the Arrivals Hall around the clock.
Airport Hotels: Resta Club Marina View Porto Ghalib is the nearest hotel to the airport.
Airport Hub: Marsa Alam International Airport (code ALY) is the primary hub for Red Sea coast.
.
---
Share the news