Cheap Flights to Aswan
It is always advised not to look back at your past; however you can safely break this rule in Aswan and El-Nuba. Aswan is one the most ancient cities in Egypt with more than 7,000 years of civilization, modern history and a stunning Nile view. If you need time to clear your mind, learn about history, visit one the most beautiful cities in Egypt, and take the best pictures, pack to Aswan you will never regret it!
One of the best colorful memories you will always carry in your heart is the beauty of Nuba. Nuba known as Nubia Village is a town located by the two sides of the Nile River about 15 minutes drive from Aswan's downtown, where people are extremely friendly, welcoming and joyful all the time, living in houses built with a phenomenal architecture style, painted in vivid colors. The bright contrast of colors will be the main highlight of your trip.
You can fly straight to Aswan then take a cruise from there, or you can take a Nile cruise from Cairo which will require a longer duration of stay.
The weather in the mentioned cities is a classic desert one, which is very warm in the morning and very cold at night. The best time to visit is between November and April during winter and spring.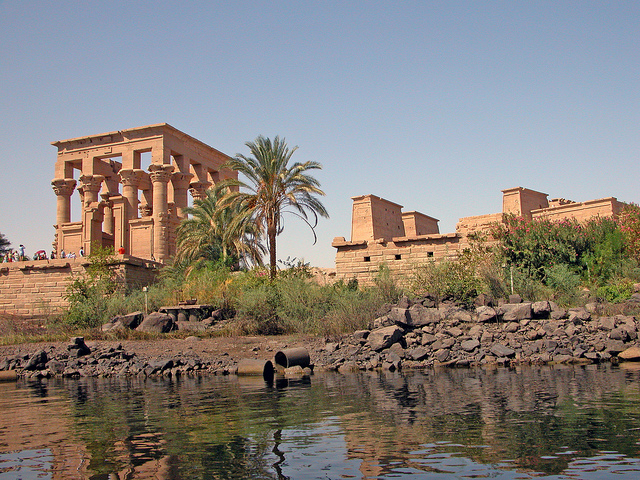 Isle of Philae Temple by Dennis Jarvis
Egyptian regular passport holders need a valid visa to visit Jeddah and Saudi Arabia in general. Saudi Arabia issues Work, Visit and Pilgrimage visas.
The Saudi Arabian embassy in Cairo is at: Ahmed Nessim Street (2) - Giza - in front of the Giza Security Directorate, Tel: 237749800 - 237744600.
For the Egyptian Consulate in Jeddah; Address: 2 Mohamed Iqbal street, Al-Rawdah, P.O. Box 9136, Jeddah 21413, Saudi Arabia, Tel: +96612660.5205.
You cannot afford missing out the Temple of Philae in Aswan. It is the largest temple that was relocated during the construction of the High Dam to Agilika Island. The uniqueness of this temple lies in combining both Pharaonic and Romanian history in a piece of one eternity. Philae Island, Aswan Sculpture Park, Unfinished Obelisk, Kitchener's Island, Aswan Botanical Garden, Qubbet Al-Hawa are many of Aswan's wonders. Mausoleum of Aga Khan is one of Aswan`s landmarks, unfortunately it is closed to visitors, however it still can be seen when on board of a Nile cruise.
As for Nubia; Gharb Suhail is a Nubian village where you can ride camels, see the interiors of Nubian houses -where people raise alligators as pets- and mingle with locals and get an idea about their culture and traditions. To learn even more about the Nubian history you can visit the Nubian Museum and Animalia which includes an information center about the Nubian life. Why not spend the night at the best Restaurant and Hotel Hadouta Masriya?
You will always remember the food in Aswan and Nubia with a great longing. For perfect Egyptian cuisine you have to try the oriental restaurant Al-Masry located down town, for grills and breath-taking view of Aswan you can take a small boat to Du'kka; a restaurant located in the middle of the Nile with plants hanging all around. However, if you are in the mood for a fancy restaurant the 1902 Restaurant at the Sofitel Old Cataract Hotel with its panoramic Nile view is the place to.
Official Language: Arabic. English is widely spoken.
Time Zone: UTC+2. Daylight saving time is UTC+3 starts in April, ends in September.
Currency: Egyptian Pound equivalent to 100 piasters.
Dialing Code: (097) from inside Egypt. Add country code +2 to call from outside Egypt.
Driving: With your national driving license you can drive within Nubia and Aswan.
Aswan International airport is small and friendly, however, the quality of service offered there is quite good.
Food and beverage: You will find the restaurant of the airport that offers pizza, sandwiches, patisseries and coffee .
Currency Exchange: Currency exchange outlets can be found in downtown.
Lost Luggage: Lost Luggage must be handled by your individual airline's help desk. In case you have any inquiries about lost/found inside the airport you can head to the information desk at the airport.
How to get to the City Center: Taxis are the best way to move to city center. They are available outside the Arrivals Hall around the clock.
Airport Hotels: you will find all the good hotels down town. Movenpick and Sofitel are considered the best in Aswan.
Airport Hub: Aswan International Airport (code ASW) is the hub of Egypt Air Airlines.
.
---
Share the news