Book Saudia Airlines Flights
Ahlan Wasahlan: like the name of its inflight magazine suggests, at Saudia Airline a first-class welcome awaits its passengers. Saudia adds a touch of home and hospitality with all its services and amenities. Three classes of travel are offered to passengers: First Class, Business Class, or Guest Class. First and Business Class passengers are treated to traditional Arabic coffee and succulent dates shortly after take-off. Travelers in all three classes are offered multinational meal options; an Arabic, Western, Vegetarian, or dish typical of the destination country are choices presented to passengers. In First Class, meals are served on fine china. Business Class and Guest Class passengers of Saudia Airlines are afforded more cabin space than passengers of many other airlines. Overnight kits and children's entertainment bags are provided for guests in all cabins requiring them. Little touches like these are what make Saudi Arabian Airlines passengers feel welcome.
Saudia Airlines' Baggage Allowance
Checked in Luggage on international flights:
First Class and Business Class – two bags, not to exceed 32 kg each*.
Guest Class – Either one bag under 32 kg, or two bags each weighing 23 kg (number of pieces will be determined once ticket is issued)*.

*Alfursan loyalty members (frequent-flyers) may receive an additional 23 kg luggage allowance.
Carry-on Luggage:
First and Business Classes** – 1 bag weighing up to 9 kg.
Economy Class – 1 bag weighing up to 7 kg.

**Business Class flyers are also allowed an additional briefcase.
Note: checked in baggage on Saudia flights departing to USA stations (New York (JFK), Washington D.C. (IAD), Los Angeles (LAX)) and Canada (Toronto (YYZ)) from Riyadh (RUH) must be sealed using safe wrap prior to acceptance on the flight.
Saudia Airlines Check in
Web check-in is currently available on all domestic and selected international flights for passengers holding a confirmed, valid ticket. Web check-in is available any time between 24 hours to 3 hours prior to flight departure.
Self-Service Kiosks are also now available to travelers in certain locations in Saudi Arabia. As long as you have your flight reservation with the 6-character or 12-digit confirmation number, you can print your own boarding pass in the airport and skip the service-line queues. Boarding passes can be printed from the kiosks up to 24 hours before takeoff.
Note: self-service kiosks cannot be used to print boarding passes for international flights, discounted flights, single itineraries that contain more than four segments, or single itineraries for more than nine passengers.
Saudia's In-Flight Entertainment
Saudi Arabian Airlines' In-flight Entertainment features the latest state-of-the-art technology aimed at fulfilling passengers' entertainment needs on long-haul flights. On many aircrafts, seats are equipped with personal, touch-controlled video screens offering video-on-demand. The video channels cover religious programs, Arabic and international movies, pop videos, documentaries, and children's programs, all carefully selected to provide wholesome family entertainment. Cameras mounted outside the aircraft also give passengers a 'pilot's-eye view' from every seat in the cabin!
Saudia Airlines Fleet
Saudia has a 114-aircraft fleet made up of Boeing, Airbus, and Embraer jets. Saudia Airlines also charters private aircrafts for individuals and companies that can accommodate up to 400 passengers. Saudia is a member of the Sky Team Alliance.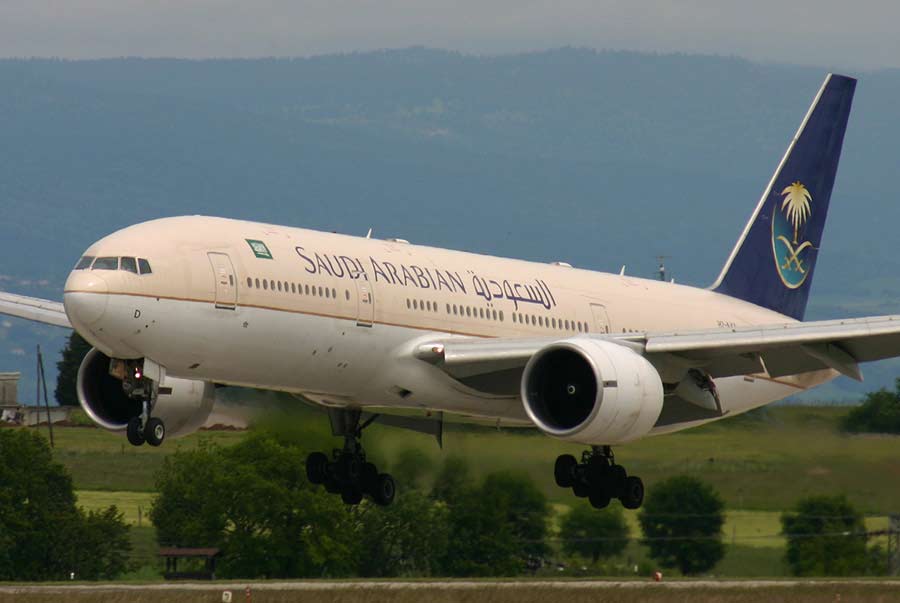 Saudia Airlines Routes
Saudia operates out of airports in four cities in Egypt: Cairo (CAI), Alexandria (HBE), Luxor (LXR), and Sharm el-Sheikh (SSH). All four cities have direct routes to Jeddah (JED). Cairo, Alexandria, and Sharm el-Sheikh airports also offer direct routes to Riyadh (RUD). Alexandria and Cairo offer direct routes to Madinah (MED). Direct flights operate between Cairo and Dammam (DMM), and Cairo and Abha (AHB). The airports in Jeddah, Madinah, Riyadh, and Dammam serve as hubs for Saudia Airlines. From Saudia's hubs, you can fly to nearly 200 destinations around the globe. Travelers wishing to fly with Saudia Airlines for Hajj and Umrah can get useful information here.
---
Share the news