Book Etihad Airways Flights
Fly like a Sheikh or an oil baron on Etihad Airways, the national carrier of the UAE. If you are a sheikh or an oil baron, why not jet-set in one of Etihad's Residence in-air "living spaces": a private, three-room-suite, onboard an Airbus 380 en-route from Dubai to London? Thanks to Etihad's unique pet policy, you can even bring your pet falcon along for the ride!
Even if you don't own an oilfield or small kingdom, you can still travel in comfort and style in the airline's award-winning Economy Class section. The Etihad fleet boasts one of the world's most spacious economy-class seating-areas. It features an ambient mood-lighting system; your choice of three main-course, halal meal options; in-seat power-sockets (some flights also offer On-Air internet connectivity); and 750+ hours of on-demand entertainment (movies, TV, games, and more) on a personal, 10.4-inch, touch-screen TV.
Travelling with children? No worries; Etihad's onboard Nanny will help keep them entertained! No wonder Etihad was on the World Travel Award for World's Leading Airline four-times over (2009-2011, 2013).
Etihad Specials
Though you may be tempted to think that all the luxuries offered by Etihad Airways might cost you a fortune – fear not! The flights are quite affordable and the deals are aplenty!
Baggage Allowance
Checked Luggage:
First Class – bags not to exceed 50kg*.
Business Class – bags not to exceed 40 kg*.
Economy Class – bags not to exceed 30 kg***.
*Etihad Guest frequent-flyers may receive from 10-20 kg additional weight in all classes.
**Excess luggage incurs a cost; each item of excess luggage cannot exceed 32 kg.
Carry-on Luggage:
First and Business Classes – 2 bags totaling no more than 12 kg.
Economy Class – 1 bag not to exceed 7 kg in weight.
Infant Luggage:
Checked Luggage – up to 10 kg.
Carry-on Luggage – one additional handbag not to exceed 5 kg; one fully collapsible stroller.
Please Note:
Passengers traveling to/from the US, Canada, or Brazil face different luggage restrictions.
Passengers travelling with a codeshare partner must also check for that airline's luggage restrictions.
For more information on luggage restrictions, see here.
On-line Check in
For traveling convenience, Etihad offers an online check-in system. To check in online, your flight must be operated by Etihad Airways and NOT a codeshare partner. Online check-in is open between 24 hours and 2 hours before your departure time. (The service is not available for US-bound passengers.)
To check in online, you must have your PNR (Booking Reference Number) - a 6 digit alpha-numeric booking reference, or your 12-digit Etihad Guest Number found on your itinerary.
Extra Leg Room
Economy passengers can choose seats with extra leg-room on a first-come first-serve basis – for an additional fee. These seats are located near the exit rows, and passengers must meet the safety requirements in order to sit in them. If it is determined that a passenger does not meet these requirements, the passenger may be re-assigned to a different seat and the additional fee will NOT be refunded.
Etihad's Fleet
Etihad operates more than 1200 flights per week to over 103 destinations in 62 countries, with a fleet of 86 Airbus and Boeing aircraft. Beginning in December 2014, Etihad will be expanding its fleet to include the new Airbus 380 and Boeing 787 Dreamliner luxury aircrafts on select routes. Based at Abu Dhabi International Airport (AUH) since 2003, Etihad is one of the youngest commercial airlines in the world.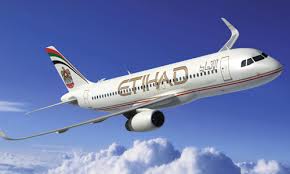 Etihad Routes
Etihad offers multiple, daily flights from Cairo to Abu Dhabi. From Abu Dhabi, passengers can connect to destinations around the globe! If you're planning a vacation in the Emirates, Etihad Airways offers its guests FREE luxury coach travel from the Abu Dhabi airport into Dubai or Al Ain. Reserve your coach in advance for hassle-free travel.
Traveling beyond the Emirates? If your schedule allows, Etihad offers extended stop-over tours to experience the pleasures of Abu Dhabi. Travelers with 6-12 hours of airport transit time can take advantage of these tours with a short visit to Yas or Saadiyat Islands. (Note that Egyptian travelers do need a visa to visit the UAE). Until November 2104, travelers who book a two-night stopover and stay at the Hotel Hala Abu Dhabi can even receive a complimentary 96-Hour Visa (subject to UAE immigration rules) from Etihad Airways.
---
Share the news