Fly With Alitalia Airlines
UP FOR AN ADVENTURE?
Are you up for an adventure? You should be because Travelstart is down with the prices! Alitalia and Travelstart are bringing you deals to get you to our top destinations. Fly from Cairo to Rome or anywhere else in the world from a little as 5,317 EGP one-way. It's practically a steal! Travel until 31 December 2017 but be sure to book before 31 August 2017 to avoid disappointment. T&C's Apply.
When can I book: Until 31 August 2017
When can I travel: Until 31 December 2017
Book Alitalia Flights
Alitalia is the main passenger transport group in Italy. It is a member of SkyTeam alliance and its entire fleet has been recently renovated. Traveling with Alitalia now is better than ever before.
The wide variety of services and special assistance they added along with their friendly staff and low cost flights make it a great choice when traveling to Europe. The way their staff welcome you on board with a "Buongiorno", "Bienvenuti" or "Ciao" will make you feel that you have already stepped on Italian lands.
Alitalia's hub is the Leonardo Da Vinci airport in Rome Fiumicino that is also the SkyTeam alliance's South Europe hub.
Alitalia offers 4 classes of traveling; The Magnifica and the Ottima allow you 2 pieces of check-in luggage of 32kgs each and give you access to the SkyTeam lounges, dedicated check-in desks and special on board menus. The classica plus is advantageous on the Classica in providing you with more leg room, a travel amenity kit & a night kit and gives you priority when boarding.
Baggage Allowance
All Economy tickets allowed for 1 piece x 23 kgs except USA
One piece of carry-on luggage is allowed per passenger and may not be larger than 55cm x 35cm x 25cm or weigh more than 8kg.
Please remember that most airlines now have strict rules regarding the transportation of liquids. Anything in your carry-on luggage that is in the form of liquid/paste/gel must be in a container no larger than 100ml & placed in a sealable transparent plastic bag.
Check-in
Check in for your Alitalia flight at the airport at least 2 hours before departure. There are also several other options available for check-in; through the web, mobile, telephone or simply the fast check-in option is some airports. See all available methods of checking in here.
The Web check-in option is available to passengers from Cairo but you will be able to pick up your boarding pass at the airport only. This service is available 24 hrs from the day before your travel date, it gives you the option of buying extra comfort seats & is available even if you have luggage. Do not use it if you need any type of special assistance.
Special Requirements
Alitalia offers assistance to almost all types of special needs. You can check out the available services here. In addition to their requirements for moms to be, children and animals onboard their flights.
Make all your inquiries &/or requests at least 48 hours prior to departure using one of these numbers:
From Egypt: +20 800 4000 400.
From Italy: +39 06 65640.
Alitalia's Fleet
Alitalia airlines have just finished renewing their entire fleet, making it among the youngest in Europe. On a trip from Cairo you will most likely take one of their Airbus A319, A320 or A321 models that have an average of around 160 seats & fly at a speed of 850 km/hr. Those planes have 2 sets of 3 seats rows with the aisle in the middle.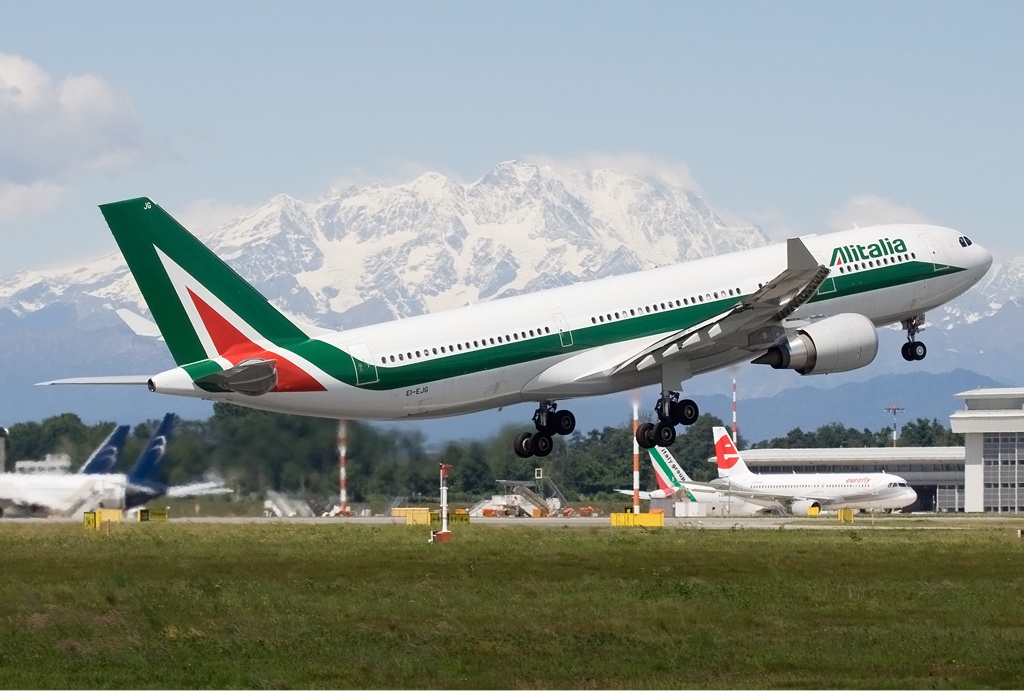 On Board
All flights from Cairo include a light meal on Alitalia. You can ask for a special meal while booking your ticket, or through their special assistance numbers, at least 24 hours before your flight. The types of meals and drinks served, differ according to ticket class.
Alitalia's in-flight magazine is called ULISSE and has been renewed recently. Please feel free to take it with you home.
Do you feel the need to stretch your legs further on economy flights? There's an option of buying extra space for your feet on Alitalia's flights. They call the the "Extra Comfort Seats". Buy the extra space while checking in online or at the airport. You can see the costs table here.
Alitalia Flights between Cairo & Italy
Two daily direct flights between Cairo & Rome at those times:
CAI-FCO at 3:30 am & 4:10 pm
FCO-CAI at 2:40 pm & 10:15 pm
One daily direct flight between Cairo & Milan at:
CAI-MIL at 7:00 pm
MIL-CAI at 9:40 am
Fare conditions:
When Can I book: Until 31 August 2017
When Can I Travel: Until 31 December 2017
Fare may differ due to currency fluctuation and / or government tax regulations as per journey booked.
Fares are subject to change and availability.
Offer is subject to availability of seats at time of booking.
---
Share the news