EXCLUSIVE 1 DAY SALE TO PARIS
It's not very often we come across deals as good as this, but when we do we simply have to share them immediately! What's a great deal if you can't share it? Travelstart and Air France are sending you to Paris from as little as 4, 611 EGP for a one-way ticket! Travel until the 31 October 2017, but to get this EXCLUSIVE deal you will have to purchase TODAY! T&C's Apply.
When can I book: Today – EXCLUSIVE ONE DAY SALE!
When can I book: Until 31 October 2017
Top Air France Destinations
Book Air France Flights
Since they started in 1933, they never failed at giving us a sense of "en vogue" while flying. With great history that exceeds 80 years, they succeeded at maintaining the equation of "cheap and chic" while offering their clients the essence of basic comfort. When you step into one of their aircrafts you sense the beauty of the country beholding the city of the lights, which sums up the "Air France Airlines" experience.
Since it became allied with KLM -one of the top and most successful airline alliances-; Air France has been thriving to attain excellence at all levels starting from customers to its own employees. They have a strong vision when it comes to Corporate Social Responsibility and environment which makes them an airline operator that fly with care.
Chic Check-in
In addition to Airport check in, Air France allows you to check online 30 hours before you fly, which gives plenty of time to confirm your presence and pick up your seat. The check in deadline varies from country to another so you have to check online when your exact check in deadline is. To check in you need:
Your Passport with a valid Visa of your destination country.
Your E-Ticket.
If you paid your ticket online , you will need to show the credit card you paid the ticket with.
Baggage Allowance
The checked in baggage allowance varies based on your destination, service class and frequent flyer status. However generally the baggage item for all passengers should not exceed 23 kg and should not measure more than 158 cm (all inclusive length, width and height). If that is not the case the extra pieces will be subjected to extra charge.
The hand baggage also depends on your destination and service class. It is advised to check your hand baggage limit before you go. In case you are travelling economy class you are allowed to take one baggage within the range of 55 cm length x 35 cm width x 25 cm height dimensions, this includes pockets, wheels, and handles. In addition to one accessory (hand bag, Laptop bag. camera, etc.). The maximum weight of all hand baggage should not exceed 12 kg.
Animals are welcomed on board
To know more about your options to ship your pet to your destination, please visit the animal transportation policy.
Air France Fleet
Air France has a variety of Airbus and Boeing wide bodied jets on long-haul routes. However, it uses Airbus A320 family aircraft on short-haul routes. Air France welcomed the A380 on its board on the 20th November 2009 with service to New York's JFK Airport from Paris' Charles de Gaulle Airport.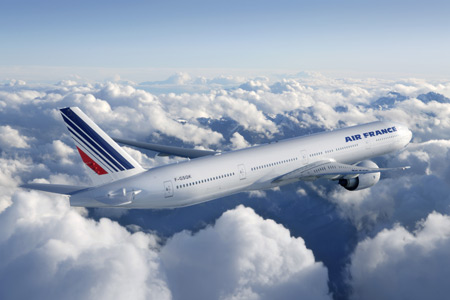 Get the best out of Air France
Air France offers cost efficient flights with good meals and an extremely professional and helpful team. Meals served are exceptionally good, you will attain all that and more with happy pockets.
You can enjoy your flight while reading the Air France-KLM in-flight magazine, or watching a TV show from the variety of programs provided by their entertainment system channels or even listening to music from their online radio stations.
If you are a regular traveler and you are interested in flying with them on the long run; Air France offers "Flying Blue" Card. It is almost like a loyalty card which gives some exclusive benefits such as access to airport lounges, extra baggage allowance and bonus miles on each flight.
All customer reviews about Air France are fairly positive emphasizing how smooth their flight was and how excellent customer service is.
Hub Information
Despite many other hubs, Charles de Gaulle Airport still stands out as the biggest and main hub serving all Air France flights, along with its two subsidiaries HOP! and CityJet destinations with 401 daily flights.
---
Share the news